https://www.youtube.com/watch?v=q5PnhjWkS2A 2003!
https://www.youtube.com/watch?v=VieQYwgedP0
http://www.youtube.com/watch?v=IdfZ5w1BvTE
http://www.youtube.com/watch?v=NXhRHPlamlQ
There are small FGPA boards available from china from 18 USD, shipping included. See e.g. (Aliexpress)[www.aliexpress.com/wholesale?SearchText=ep2c5t144+board]. You'll also need an Altera USB Blaster which can be had also from (Aliexpress)[http://www.aliexpress.com/wholesale?SearchText=usb+blaster].
Altera Quartus II
Quartus II 13.1 contains no support for Cyclone II devices anymore, so use 13.0 SP1. You need the two packages /Quartus II Software (includes Nios II EDS)/ and /Cyclone, Cyclone II, Cyclone III, Cyclone IV device support (includes all variations)/.
USB Blaster udev
http://www.youtube.com/watch?v=EpwBQ4Z_deU
http://www.youtube.com/watch?v=2DjvtjgRdGA
Siemens Tochteruhr
Die Zeiger der Tochteruhr können eine Minute vorwährts bewegt werden in dem an den zwei Kontakten eine Spannung von 12V mit pro Minute wechselnder Polarität angelegt wird.
Die Steuerung läuft über einen Atmel ATtiny44a. Als Zeitquelle wird DCF77 verwendet. Die Spannungsversorgung erfolgt über zwei Mignon Akkus.
Der Mikrocontroller wird mit einem Uhrenquarz (32768 Hz) als Systemtakt betrieben. Manche ATmegas können einen Timer über einen extra Quarz hochzählen, hier wäre kein so niedriger Takt notwendig.
DCF77 Modul
Das DCF77 Modul stammt aus einem Funkwecker (Kaufland, Powerking RCC3360) mit vier Lötfahnen GND, VCC, OUT und PON. PON muss auf GND damit das Modul arbeitet. VCC mit 3V scheint zu funktionieren.
Boostwandler
Um die Uhr mit zwei Mignon Akkus betreiben zu können wird mit einem Schaltwandler eine Spannung von 12V erzeugt. Der Wandler ist diskret aufgebaut.
Diskrete H-Brücke
Schaltplan: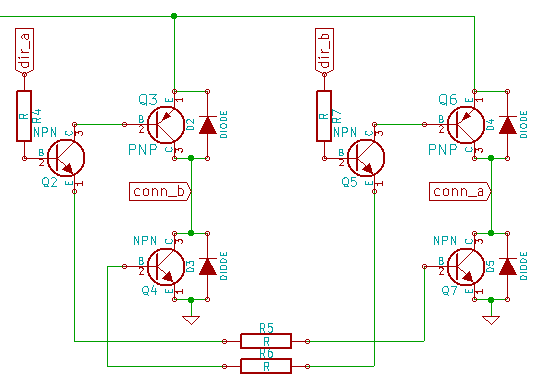 Steckbrett: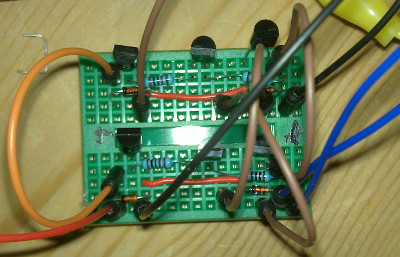 Video
Status
Inzwischen läuft die Uhr seit zwei Monaten, noch ohne DCF77-Synchronisation und von einem Netzteil. Synchronisation ist notwendig, sie geht inzwischen sechs Minuten vor.
This blog is powered by ikiwiki.